Pool Table Recovering Service in Akron
Is the existing felt on your pool table worn out? Or perhaps, you just bought a used pool table that needs new cloth? If your answer is yes, then look no further! The SOLO® Pool Table Movers of Akron is hands down your best option to take care of your pool table recovering needs.
Give us a call now to get your free quote and schedule your billiard table refelting service!
support@abiapool.freshdesk.com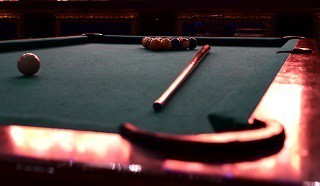 The SOLO® Pool Table Movers of Akron has plenty of experience handling pool table installations with level and expert pool table refelting for years.
Considering the many years, we have as our experience, we can assure you that the best time to replace your felt is during your pool table assembly.
Furthermore, used pool tables need to be thoroughly inspected to ensure the inner components are in good condition.
Doing this will not only avoid issues in the future but also extend the durability of your table. In addition to it will give your table a new look and allow you to get the most enjoyment out of your pool table.
Professional pool table refelting using cloth of the highest quality
It's important to note that refelting a pool table is an intricate task. To emphasize this, we know that this task can even be tedious for mechanically inclined people. This is to say that you should be careful when hiring someone to recover your table.
Hiring someone of dubious repute will not only jeopardize the integrity of your table but also you risk the cut of felt you purchased for this purpose to be ruined if handled poorly.
As for the pool table felt, there are about 30 different colors from to choose from in either standard residential grade cloth or upgraded worsted material. Each and every one of the pool table refelting services are covered under a written guarantee.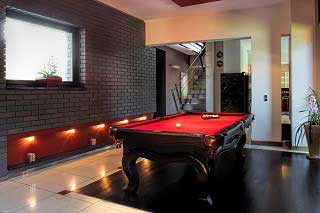 The protection this guarantee provides is against any installation and leveling issues that may arise. Additionally, the ABIA guarantee covers the cloth provided against rips, tears or manufacturers defects for a whole year!
Rest assured our skilled team of pool table movers will return to fix any issue related to our workmanship and/or materials we provided for the service at completely no charge.
Another key point is the fact that we can salvage the existing cloth on your table. This is provided the felt is in good condition and that you're happy with it.
However, this is achievable only if the disassembly is carried out by professional pool table installers. In other words, your pool table recovering or any other service must be handled by and specialists like ourselves.
We take pride in the workmanship we provide and our exclusive guarantee issued in writing and backed by the ABIA. We have all of the necessary tools and equipment to carry out professional pool table moves and most billiard table services and repairs. You can expect the best playing experience when we finish servicing your pool table.
Pool table refelting and felt provided are covered under the guarantee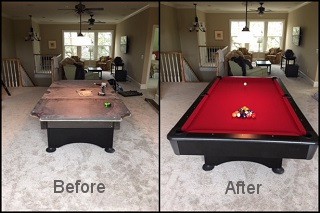 Recovering a pool table and most billiard table services are intricate. With this in mind, it is always a good idea to hire professionals to achieve the best playing experience.
As a matter of fact, we can say that even when someone is not an avid player, shooting pool on a poorly setup and recovered pool table leaves much to be desired.
Pool table recovering with SOLO® Billiard Table Movers gives you the peace of mind that our competitors just can't provide. You can rest easy knowing qualified billiard table installers will handle your pool table recovering service.
Pool tables are factory built in a piece by piece manner, the disassembly and re-assembly need to follow the same steps. In other words, carrying these tasks call for a certain level of skill that not all pool table mechanics have.
We have all of the necessary tools and equipment to give you the best playing experience when we finish servicing your pool table. When we complete the service, rest assured your table will be in the best playing condition it can.
We take pride in providing professional pool table services that are covered by a written guarantee backed by a national organization and liability insurance for the unexpected.
We guarantee the workmanship and materials provided for services. The coverage benefits you're entitled to start when we complete your job and last for an entire year.
This guarantee is exclusive to our company, it is issued in writing and backed by the American Billiard Installers Association. This is the only national organization that is raising up the standard billiard table service practices within our industry.
Pricing your pool table recovering service
Pricing fluctuates in the area depending on what type of pool table cloth you choose and what type of pool table you have. We'll need to know the following: The playing surface area of the pool table, the pocket built it has, if the pool table is an antique or modern style, and lastly if it is already setup and playable or in pieces.
If you are looking into having your first pool table and need to know if it is the appropriate size for your game room, please check out our pool table room sizes guide page which we have put together to help you in this aspect of your move. Below are the types of pool table felt we supply for a pool table recovering service.
Felt choices for your billiard table refelting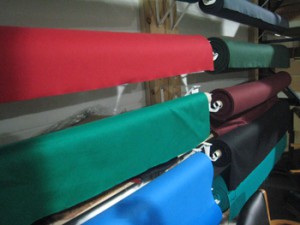 There are differences between standard cloth and upgraded worsted material. The worsted material is manufactured differently and rather than having the fuzzy finish it is very smooth and durable.
The worsted felts play much faster and give the player a more responsive and different gaming experience. You can order your pool table recovering from either material.
There are different types of pool table felt to choose from. However, they can be divided into two categories, these being standard cloth and upgraded worsted material.
The main differences are the speed, accuracy, and overall gameplay performance.
Standard woolen pool table felt colors
Stain resistant material woolen felt is what is most commonly found on pool tables and most likely what is offered with all new pool tables. The texture is a little "fuzzy" which makes it slower and the most economical of the options.
Simonis worsted pool table cloth colors
(Opens in new window)
The most widely recognized name in the industry, used by professionals and passionate players. This pool table cloth undergoes a special manufacturing process that results in a beautiful precision cloth. This achieves the smoothest and most accurate playing surface available.
Standard worsted felt non-brand colors
(Colors may be limited, contact us to get current colors available.)
Tournament grade cloth, tightly woven material that gives it a slick texture allowing for a faster game, higher accuracy and more durability.
In Conclusion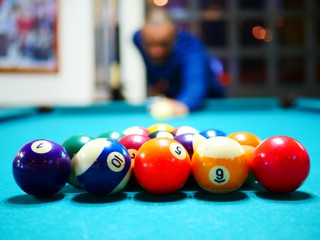 Keep in mind we offer a written service guarantee from the American Billiard Installers Association.
The only National Organization that regulates billiard table service standards and constantly making efforts in raising service standards.
With decades of experience backing us, The SOLO® Pool Table Movers is the best option for you. We can take care of all your pool table needs.
Give us a call now to get your free quote and schedule your pool table recovering service with the SOLO® Team in Akron!
support@abiapool.freshdesk.com