Are you looking for professional pool table movers?
Professional and experienced services by Akron Pool Table Movers
Guaranteed, written service guarantee.
We are the only organization of professional pool table movers in the industry that offers true client support for our customers with the most technologically advanced systems in use today. Call our professionals to get a price for moving your billiard table or if you only have general questions. Your satisfaction is what has made us the largest and most professional billiard service company in the industry.
Call our team right now
Pool table movers servicing Akron and surrounding areas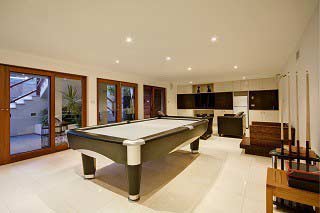 Moving your pool table with SOLO® Pool Table Installers of Akron includes the proper disassembly, safe transportation, and professional pool table assembly with expert leveling.
We can replace the current cloth of your pool table with a new pool table felt at the time of installation if you desire, With an additional cost.
However, if the existing felt is in good condition we can also salvage it so that it can be reused. We have been servicing pool tables in the area for years. As a result, you can be sure we handle the pool table moves from start to finish.
Our team of trained pool table movers has plenty of experience in all types of billiard table services. We handle each move from start to finish and we make sure your table is in the best playing condition it can be when we finish.
We properly set up new and used pool tables all over Akron and surrounding areas.
Guaranteed satisfaction and leveling on applicable pool tables. Complete pool table moves from one house to another and we service local businesses also.
If it is the case that you don't live in Akron, and you are asking yourself; where can I find skilled pool table movers near me?
You don't need to worry! As we cover many areas surrounding Akron such as Cleveland, Brunswick, Elyria, Canton, Massillon, Youngstown, Warren, Boardman, Beachwood, Pittsburgh, Lorain, Kent, Wooster, Mentor, Chardon, New Philadelphia, Alliance, Cuyahoga Falls, Green, North Canton, Medina, Barberton, Wadsworth, Salem, Strongsville, Ashland and many other areas in between and even farther!
The Billiard Table Movers SOLO® are skilled in all types of pool table services
Our team of billiard table installers provides new and used pool table installations all over the area. We come to your home, unpack if necessary, cover rails, seal the seams with beeswax, and precisely level all 3 pieces of slates using the best leveling equipment.
We move pool tables in homes, businesses, and even garages! We handle every aspect of a pool table move, including proper teardown and a professional pool table installation.
Other services include in-home moves, proper breakdown, and safe transport to storage, professional pool table setup, pool table recovering of an already installed table, and moves in two appointments for when you need your floor carpet replaced.
Do you need to have a pool table repair taken care of? We can also help! Our team of professional pool table movers will make sure you are taken care of either it is a residential or commercial service. We are well trained in our area of expertise.
Choosing the right pool table movers
We work with pool table installers in many areas and we have been exposed to the common practices in the pool table service business at levels that no other company could possibly understand.
We are the largest pool table service company in North America and our mission has been giving the client the best and most honest service possible.
Our team can fill those weaknesses with an entire team of customer support personnel that will always be there, even when you can't find the installer.
We have taken the business to a higher level and our mission holds true today as it did a decade ago. Improving client experience in the billiard industry is our primary cause.
Our pool table movers combined with our team of professionals gives our clients a risk-free service and we are completely dedicated to raising the standards in the billiard service industry.
We will break down your table or move it from storage facilities, your garage, or just another room in the house. If you need carpet laid do not try to move your pool table! Let us handle that 800 pound monster for you. Taking the table out of storage? We professionally install the pool table for you.
Pool table installers backed by an exclusive service guarantee
We are the only company in the area that provides a 1-Year service guarantee. This document is issued in writing and backed by a national organization. If you're a conscious consumer, then we advise that you consider this question; What cost am I willing to pay for a low-priced service offered by independent "cheap" pool table mechanics?
It is important to realize that charging these minimal fees cannot possibly guarantee a professional service, customer support, cost of labor, and materials to fix issues that may arise.
Traditionally, pool table installers are a one or two-man service with no client support, genuine guarantees, or even legal businesses in operation, not to mention insurance to protect their clients or employees.
The Pool Table Installers SOLO® in Akron is backed by the only national organization in our industry.
You can't expect good service to client follow-up, customer support, and a real service guarantee on their work when they aren't charging enough to even do the job correctly in the first place.
Everyone says they guarantee their work but in our many decades of experience working with pool table installers, we have found that this guarantee that they offer will generally expire after they get your commitment on the job, in other words, as soon as you hang up the phone after giving them your schedule and address. We see this happen too many times every day in the industry.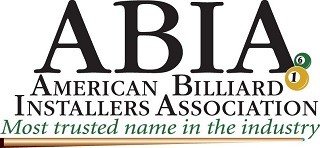 For the client who has purchased an expensive table, no matter how much they have paid for it and they want a pool table installer who can do the job without problems, late or canceled appointments, pool table, and work is of high quality when they are finished, and their time is too valuable to deal with problems for weeks after the appointment was supposed to be completed.
We are the only real choice. Our business is registered as a legal business, our service guarantee is written and backed by the ABIA and obligates us to resolve issues should any arise. You will have a risk free experience working with our pool table installers.
Our team bridges the gap in those weaknesses with an entire team of customer support personnel that will always be there, even when you can't locate your installer. We have taken the business to a higher level and our mission is as true today as it was a decade ago. Improving the client experience in the pool table service industry is our primary cause
Experienced pool table installers recommend refelting at the time of assembly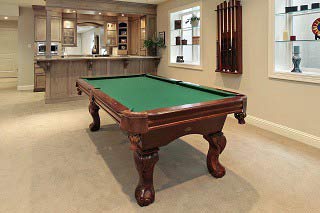 Please note that when moving a pool table we offer new cloth to recover at the time of installation. This happens to be the best time to take care of the pool table refelting service.
The reason is that the pool table is in pieces, also in case you're considering adding new cloth at the time of installation or just a good old refelting service because the felt worn out and needs replacement, let us know in advance and we will have the material ready in your desired color.
Our customers can choose from over 30 different colors of pool table felt. We use the highest quality pool table cloth the industry has to offer at this time. This cloth is also backed by our exclusive guarantee against tears or manufacturer's defects.
Our professional pool table installers work with standard woolen pool table cloth and tournament grade worsted materials as well. If you're not sure what size of a table best fits your room, check out a chart we have put together with the proper pool table room sizes to verify the pool table that will properly fit in the room where you want it set up.
Our trained billiard table installers guarantee precise leveling on each and every pool table setup job
The proper leveling equipment is critical for a perfect game of billiards. Inferior services may not balance your table properly which leaves you with the pool balls drifting to one side of the table.
Our billiard service guarantee gives you peace of mind when we relocate, and complete the pool table setup that your leveling will be done exceptionally or we will come back and re-level your pool table free of charge for an entire year.
Pool table moving the way it is meant to be done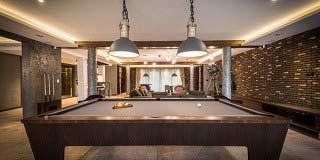 We take care of a wide variety of pool table services from just the proper break down in case you're moving out of state, pool table setup of new or used tables, replacing the felt at the time of assembly, or refelting an already setup table and of course we take care of complete pool table moves in homes and businesses.
We handle every aspect of your pool table move. Moving a pool table has distinct phases that need to be followed step by step in order for the job to be done right.
In case this happens to be the first pool table you're having installed in your home, please consider the dimensions of your game room, to make this easier for you, we have put together a chart with the approximate pool table sizes.
Disassembling of the pool table which includes loosening the pockets, staples, side rails (bumpers)
Skillful removal of the billiard felt so there are no tears that could prevent the user from reusing the cloth upon installation of the table.
Detach the slate form the cabinet or "frame" which includes removing any filler that was used in the previous installation process.
Packing the table correctly and carefully in the vehicle.
Reverse steps 1 through 4 in the reverse order.
Why use our professional pool table movers?
Jeff Black – I have worked with pool table movers and installers all over the country now for over 15 years. I started working with them after spending a considerable amount of time moving pool tables with my father who began his pool table moving and repair business in 1973. My family has 43 extensive years of experience in the moving, repair, installation, refelting, and selling of pool tables.  

43 years of professional pool table movers in my family?  That really doesn't mean much as there are so many pool table installers that claim this much experience,  I just paid out 1,500 dollars to replace rails and cloth for a client's pool table after a professional with 22 years of experience destroyed their table and denied any wrongdoing in the event.  This pool table installer caused an incredible amount of problems for their customer and for me but we make sure that we take responsibility and take care of the customer.  
While struggling to offer a "professional" pool table company in an industry that is frankly full of not professional pool table movers I have learned that the most difficult people to work with have been the pool table installers that have the most experience. Not just for me but for the customer also, we live in a customer service oriented country, and good service is not a luxury, it is expected. In the pool table installation business, unfortunately, good service is a luxury that is not often found.  
Every day we fight against movers who are not professional, they may know what they are doing but what does that matter when you want a pool table installer who shows up on time, respect your property and your time and professionally install and transport your pool table?   Do you want someone to honor their installations against faults caused by rushing, not being prepared to move the pool table correctly or even people demanding cash at the time of completion making an uncomfortable situation for all involved with the pool table mover?
I can understand the psychology of someone shopping for a professional pool table mover because I have been working with these customers for over 20 years. After you deal with that many customers looking for a pool table installer or professional mover you begin to hear the same concerns and questions over and over again.
Honestly, we don't accept every customer, in reality, our pool table company selects our customers very cautiously because we want to make sure our customers get the professional pool table mover they are looking for and we want to be sure that we can service our customers, this is why our company is not cheap.
Why do pool table installers cause problems when you select the "cheap" guy?
Let me paint a picture of your typical cheap pool table mover.
Characteristics of the cheap pool table mover, believe me when I say that I have experienced ALL of these over the years while dealing with pool table installers, I've seen it all:
Hard to get ahold of and does not return calls or emails

Unprofessional attitude

Doesn't operate as a legitimate business, makes it difficult for the customer

Cash only does not take credit cards causing an inconvenience to the client

Arrives late for the pool table moving appointment with no call

Constant rescheduling with client

Denies any pool table installation problems after they have collected their money and have left your home

Borrows money from the client for gas to move the pool table to the new location

Vehicles breaking down during the move

Arrives by himself and has the customer do the work with them so they can be cheap and win the job at a cheap price because their plan is not to pay anyone to help them. (You won't know about this until it's too late.)

Quotes a cheap price than after the pool table move is finished, ads additional charges, taxes, fuel charges, mileage etc….

Leaves a mess of staples, cloth pieces, glue on the customer's carpet

Using drugs outside of the customer's home while they are installing the pool table

Always talking negatively about their pool table moving competitors

Holds table hostage in the vehicle until you pay the additional charges they have kept from you until it's time to install the pool table

Tells you they will come back and level the table "when they are in the area" then after two weeks you can't locate them again or they stop answering your call

It has a full schedule and does not have a lot of time to serve you professionally, this is because the majority of customers tend to be cheap and not because the pool table mover is really that good, they are just cheap. If you want service, attention and a professionally guaranteed pool table installation by the company that has the expertise and can pay attention to your pool table move, book your job with the ABIA.
This is a small sample of what you will encounter when you call the "affordable" pool table mover. We can't always control the pool table installer and the circumstances that they may cause, things always are prone to going wrong but we can guarantee that you will be taken care of and that you will get what you pay for from our professional pool table movers. If you experience any problems with your table after we have done the pool table installation in your home, we will guarantee that we will resolve those pool table installation issues for you at no cost to you.
SOLO® Pool Table Installers and Billiard Table Services is your best option. All things considered, you can rest assured we stand by our written guarantee. In other words, you are entitled to 7 days per week for customer support. Also, any issues related to our workmanship and materials will be covered
Be wary of cheap pool table installers. They will and always do tell you what you want to hear, sure they guarantee their work right? Sure they have insurance right?
Sure they have 20 years experience, right?  My favorite line while they are trying to close you with their cheap offering is "I've never had a callback from a customer."  Yea right.  You mean you never went back to fix the problem with the pool table but you did have a call back from an unhappy customer, there's a big difference.  
The trusting inexperienced customer may tend to believe anything they hear but my experience with far too many pool table movers tells me that about 80 percent of what they say is not accurate while they are trying to sell you the service they offer. 
Our services also include the shuffleboard movers service with the same professional and experienced care that we provide on all our services.
This is why we offer our ABIA service guarantee in writing delivered to the client before we arrive to move your pool table.
Call our team right now.